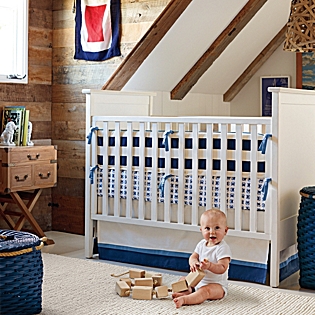 Our crib bedding from Serena and Lily (baby not included, but isn't he precious!?)
Since coming home this past Saturday, B and I have hunkered down into "baby mode."  We still have 2.5 weeks to go until the due date, but we're trying our best to get everything ready.
We've rearranged all the furniture in our house to make way for baby, set up the crib, unpacked his little clothes into his dresser, and in the first and final stage of my nesting phase, I'm giving my credit card lots of exercise and buying everything I've "had my eye on" for the past several months…It's almost show time, and I want to be ready.
In my case "being ready" doesn't mean having a birth plan typed and ready to go, but it means having a cute changing pad cover to coordinate with the crib bedding–you know, the really important things!
Each night before we go to bed I say to B, "remember, we have to live like my parents could walk in the door at any moment; our house has to stay clean and our pantry must be stocked."
Don't worry mom, last night we went to the grocery store and bought 10 boxes of cereal and 7 bags of chips, so we're all ready for your visit!  (What can I say, I'm a sucker for a good bargain, and thankfully, so is my husband!)
But as I make lists and continue to check them off ensuring everything is in place, I keep laughing to myself, because no matter how we try to get ready…are we ever really going to be ready?
I mean, we have no idea when our little baby is planning to come, how the delivery will go, or how our lives will be shaped and impacted by this life-changing event.  We don't know what he will look like, what kind of personality he'll have, what his likes and dislikes will be…we can try to get ready, but ultimately, so much of it is out of our hands.
And in a way, it's kind of like our lives…we can try to make plans and order things the way we think they should go, but ultimately the ordering and the plans are up to God.
A dear friend recently gave me several scripture verses on index cards (the most perfect gift!!) and I love the translation of Proverbs 16:9 she chose:
"

We make our own plans,




    

but the

Lord

decides


    

where we will go.

"
Proverbs 16:9 (CEV)
We can try to put things in place, but ultimately, it's the Lord who determines our steps.  He, alone, is in the midst of each and every detail of our lives and we can freely and confidently trust in Him to lead and guide us right where we need to be.
"The LORD directs the steps of the godly. He delights in every detail of their lives."
Psalm 37:23 (NLT)