Happy Friday!  Sorry for the blogging absence this week.  Sometimes real life trumps blogging, which in reality makes sense, but still not something I like having to do all the time.  I do have lots of posts half written in my head, so stay tuned for next week!  Until then, here are a few favorites for your weekend:
I was so moved by these two posts from Mary Elizabeth as she remembers and cherishes the 19 days she had on earth with her precious son, Warren.  Read them here and here.
Trish Ryan has a great review of Jennie Allen's new book, Restless.  I'm currently reading it and loving it!
Glennon Melton is doing a pretty incredible series on her blog called Our Sacred Scared that I've really enjoyed reading.
I love this version of "Oceans" from Hillsong United's "Live at RELEVANT:"
Image via Pioneer Woman
My friend recently sold me on the Pioneer Woman's Peach-Whiskey Barbecue chicken.  As with most all of her recipes, it was amazing!  I served it with her mashed potatoes and I was a goner….so, so good!  FYI: the chicken needs to cook in the oven for 1.5 hours, so DON'T do what I did and start it without reading the whole recipe!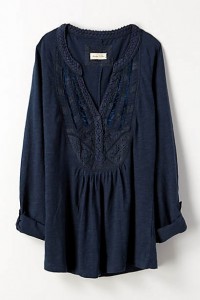 Love this edition of "Fashion Friday" from Melanie Shankle.  Everything is under $50!  How great is this top from Anthroplogie on sale for $38?
If anyone's been watching ice skating during the Olympic games, you will love this this Buzzfeed, "27 Things You're Really Thinking When You Watch Figure Skating."  Disclaimer: is it slightly PG-13 in some places.  Here's a quick preview:
20.  YOU ARE STEPPING ON HIM WITH YOUR KNIFE FOOT!
Have a great weekend!!