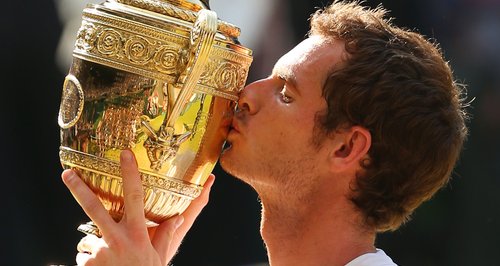 Sweet Victory
Happy Monday!  I hope you had a fabulous 4th of July weekend.  In between cookouts and pool time, we carved out chunks of our day to watch Wimbledon.  Did you see it?! 
Yesterday, we raced home from church to watch the Murray-Djokovic men's final.  And for the first time in 77 years, Britain finally got the champion they'd been waiting for on their home grass.
Last year's final was not this way.  The entire nation, who all put their hope in Andy to bring the championship back to Britain, watched as Andy tearfully had to admit defeat.  Warning: if you watch this link, you may cry, too.
Yet, after such a disappointing loss to Roger Federer, Andy did not give up, assuring his country, "I'm getting closer…"
After losing in the finals of his first four major finals, he went on to win the Olympic Gold medal in London and then clench his first major championship at the US Open.  And now, one year later after such a heartbreaking loss, Andy is Britain's Wimbledon Champion!
I just love a good victory, don't you?!
 
If I were Andy, I think last year's loss would have majorly set me back.  I mean, the whole country is counting on you and you just weren't able to pull it off?  Talk about devastating!  Yet, somehow, he stayed the course.  He didn't give up.  He trained.  He worked harder.  He didn't lose sight of the vision.  He persevered.  And one year later, he came back stronger, more mature, and ready to WIN. 
Sometimes in our lives, we face loss, failure, or disappointment.  As hard as we work, things just don't work out the way we plan.  During these times, it's easy to get discouraged and want to give up completely, but we can't lose hope.
Be encouraged that if God has called you into something, even if you face a few setbacks along the way, he will not leave you.  He will carry you along so that, eventually, you are exactly where you need to be.
For this reason, since the day we heard about you, we have not stopped praying for you. We continually ask God to fill you with the knowledge of his will through all the wisdom and understanding that the Spirit gives,so that you may live a life worthy of the Lord and please him in every way: bearing fruit in every good work, growing in the knowledge of God,being strengthened with all power according to his glorious might so that you may have great endurance and patience.
Colossians 1:9-11
I pray that out of his glorious riches he may strengthen you with power through his Spirit in your inner being.
Ephesians 3:16 
Therefore we do not lose heart. Though outwardly we are wasting away, yet inwardly we are being renewed day by day.
2 Corinthians 4:16