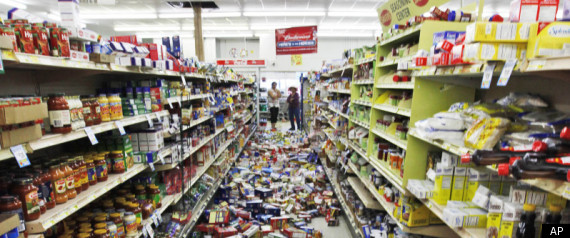 Photo from the Associated Press
Like many of my fellow east coasters, yesterday we were shaking, rattling, and rolling when a little 5.8 earthquake decided to roll its way into Charlottesville…and Richmond, and Virginia Beach, and DC, and NY, and even all the way down to Georgia, up to Canada, and over to Kentucky.
At first I thought something in our basement was about to explode, but when I realized it was an earthquake, my

 
Saved By The Bell
training kicked in, and I got down by my desk, while sweet little Neely hid in the corner.  Some children were educated from Sesame Street, I had Saved By the Bell
—
all I really needed to learn, I learned from Zack, Kelly, Slater, Lisa, Screech, Jessie, and Mr. Belding.   
Thankfully, as far as I can tell, damage is minimal and everyone is safe.  All we had were some crooked pictures and a bottle of lemon juice that fell from the cabinet into our sink.
It does make you think a little bit
—
about what we rely on, trust in, and put our hope in.  I mean, I can't say I've ever doubted the ground I walk on, but to think that the earth could shake so much that it's felt from Canada to Georgia is pretty crazy.
Here on earth there are few guarantees
—
our lives or surroundings could change at any minute, but no matter what, there is One on which we can hope and rely on.  Whether it's the ground, families, jobs, health, or
circumstances
 that are shaking, no matter how bad things may become, His love for us will never, ever stop.  
Though the mountains be shaken and the hills be removed, yet my unfailing love for you will not be shaken nor my covenant of peace be removed," says the Lord, who has compassion on you.  
I keep my eyes always on the Lord.  With him at my right hand, I will not be shaken.  Therefore my heart is glad and my tongue rejoices; my body will also rest secure.